March 31st, 2021
Kaspersky accused a Trojan in the crack.
Trojan-Downloader.Win32.AutoIt.bs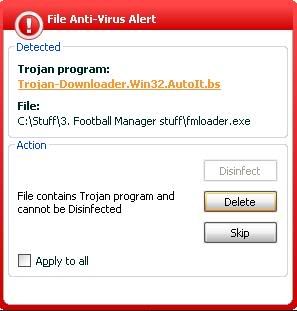 Is this really harmful to my computer? Or is it OK?
Answer #1
Because cracks and keygens contain some dodgy code to get games/software to work when they're not supposed to, of course some of them will be detected as a bit iffy by your AV software. Whether or not its a virus is hard to gauge because of this :-/
Answer #2
Where do u get the crack of v8.0.1 patch?
xD
Answer #3
I got it in:
http://www.gameburnworld.com
Answer #4
AutoIt? I heard of that.. it's a program that scripts something I think.. and I heard people saying that it's detected because of it's coding. So.. leave it.
Answer #5
Hum, roger that.
Thanks , and Merry Christmas
Answer #6
yes many keygens and cracks are seen as behaving like virus but most are ok just false alerts the comon ones are packer virus
Answer #7
lol seriously mate, know this… Kaspersky accuses everything as being viruses/trojans etc. Some people just open My computer and it pops up with a virus warning lol
Answer #8
anyone got a mac version of the crack?